Dorsis LINUS - a unique hidden floor-skirting board
We know a well-realized interior not only by the quality of the dominant elements, but also by the apparent details to perfection. And the little thing that you will know about a really precise design is, for example, the connection of floors to walls.
The ideal of modern interiors is a clean, undisturbed space. In this respect, conventional floor moldings undermine the basic aesthetic requirement - the harmony between the individual elements, ie the wall and the floor. An ordinary molding protrudes from the wall, it is seldom possible to apply a molding that will be identical in design to the floor or wall. Hidden floor - skirting boards DORSIS LINUS they represent a design element that tightens aesthetic purity to perfection.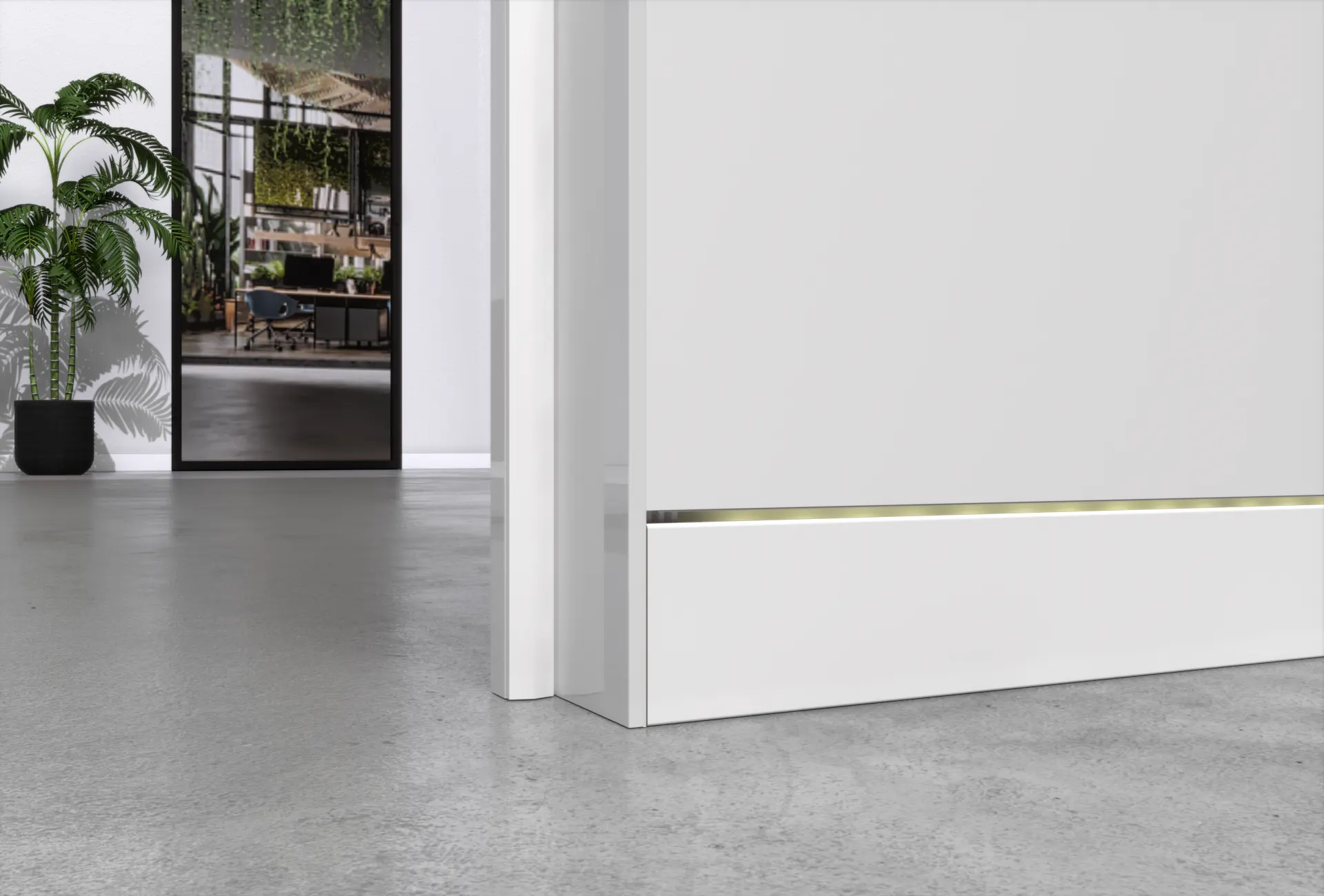 What does a hidden deposit look like?
The skirting board consists of a hidden aluminum profile combined with a design-variable insert, which in the end forms one plane with the wall - no protrusions, no disturbing elements. In addition, there is no need to solve any problems with peeling or falling strips in the corners or dust deposited on the strips themselves.
The insert can be matched with the floor covering, door or wall. The standard is to paint the insert in any shade of RAL, great results can be achieved by applying the insert from the floor covering or cut ceramic tiles. The result is a skirting board in the same design as the floor covering, ie real minimalism in every detail. At the top of the design ladder is a hidden LINUS skirting board with a modified insert with LED strip - the night line backlight in line with the floor will create a truly unique visual impression.
When does it make sense to think about hidden floor moldings?
Hidden moldings are beautiful in modern interiors, but we must plan their installation during the construction or reconstruction of the interior. It is the incorporation of the hidden profile into the wall that will allow the strip to be leveled to the level of the plaster.
The aluminum profile of the bar is installed before the final work, the design insert only after plastering the wall or cladding SDK. Milled end caps, corner and stair profiles are available to make the installation of the LINUS rail universal and trouble-free.
And how to proceed with the assembly itself?
we recommend the installation of the skirting board after pouring rough floors, anhydride and screeds; so we achieve the required plinth height
the basis is the exact determination of the height of the final floor, the standard height of the bar is 60 mm. For higher plinth heights it is enough to anchor the profile above the zero floor, for lower heights the profile is sunk below the zero floor
the upper edges of the skirting board profiles must be in a horizontal line
before installation, it is necessary to determine the flatness of the wall with a spirit level and determine the depth of the plinth; if the wall is uneven, the strip must be lined from the wall so that the plaster has a min. 10 mm
after measuring the required length, the skirting board is cut - for the outer corner we cut at an angle of 45 °, for the inner corner we make a perpendicular cut
the cut bar is placed in the required position and glued to the wall, at the SDK partitions it is anchored to the SDK structure with self-tapping screws
in the place of unevenness of the masonry walls and in the corners of the room, we recommend anchoring the skirting board mechanically using hammer-in dowels
universal right-left terminals are designed for connecting the plinth to hidden door frames and DORSIS housings; the end piece is cut and placed in the wall next to the door frame and mechanically anchored to the profile of the door frame or housing using self-tapping screws
after plastering the wall or applying SDK boards, painting and laying the final floor, the prepared design inserts are inserted and glued into the skirting board