DORSIS DIGERO industrial partition - a sophisticated solution that separates the kitchen from other parts of the apartment
Noise and smells from the kitchen are usually undesirable and unpleasant. The DORSIS DIGERO frame divider allows you to separate the kitchen while maintaining the lightness and visual connection of all spaces.
Increasing demands on the quality of living also bring frequent requirements for the separation of "functional" spaces from the normal and night zone of the apartment while maintaining the impression of interconnection of individual rooms. It is not always necessary to build additional walls and partitions, let's be inspired by modern interiors or a little unexpectedly - in office and industrial premises. The ideal solution is provided by DIGERO industrial frame partitions.
"Digero partitions are an optimal way to divide a space into two separate functional territories, while maintaining the full brightness of the entire space," says Jan Krejčí, CEO of the company Dorsis. "It is a safety glass inserted into an aluminum frame with the possibility of passage in the form of a door leaf. The result is an aesthetically and functionally separated space with a design glass wall and doors. "
Digero partitions can be tailored to any interior
The Digero partition design allows you to tailor each partition to your needs. The aim is, of course, to achieve such a distribution of glass surfaces and the color of the partition, which will be in line with the character of the entire interior.
The surface of the Digero partition is made of glass. The most popular are, of course, transparent glasses, but it is also possible to apply semi-transparent, engraved or Satinato glass.
The division of glass fields by partitions is individual - from large elegant glass areas to smaller fields, which make the industrial character of the Digero partition stand out more. The frame itself can of course be painted in the entire range of RAL swatches to best suit the character of the interior.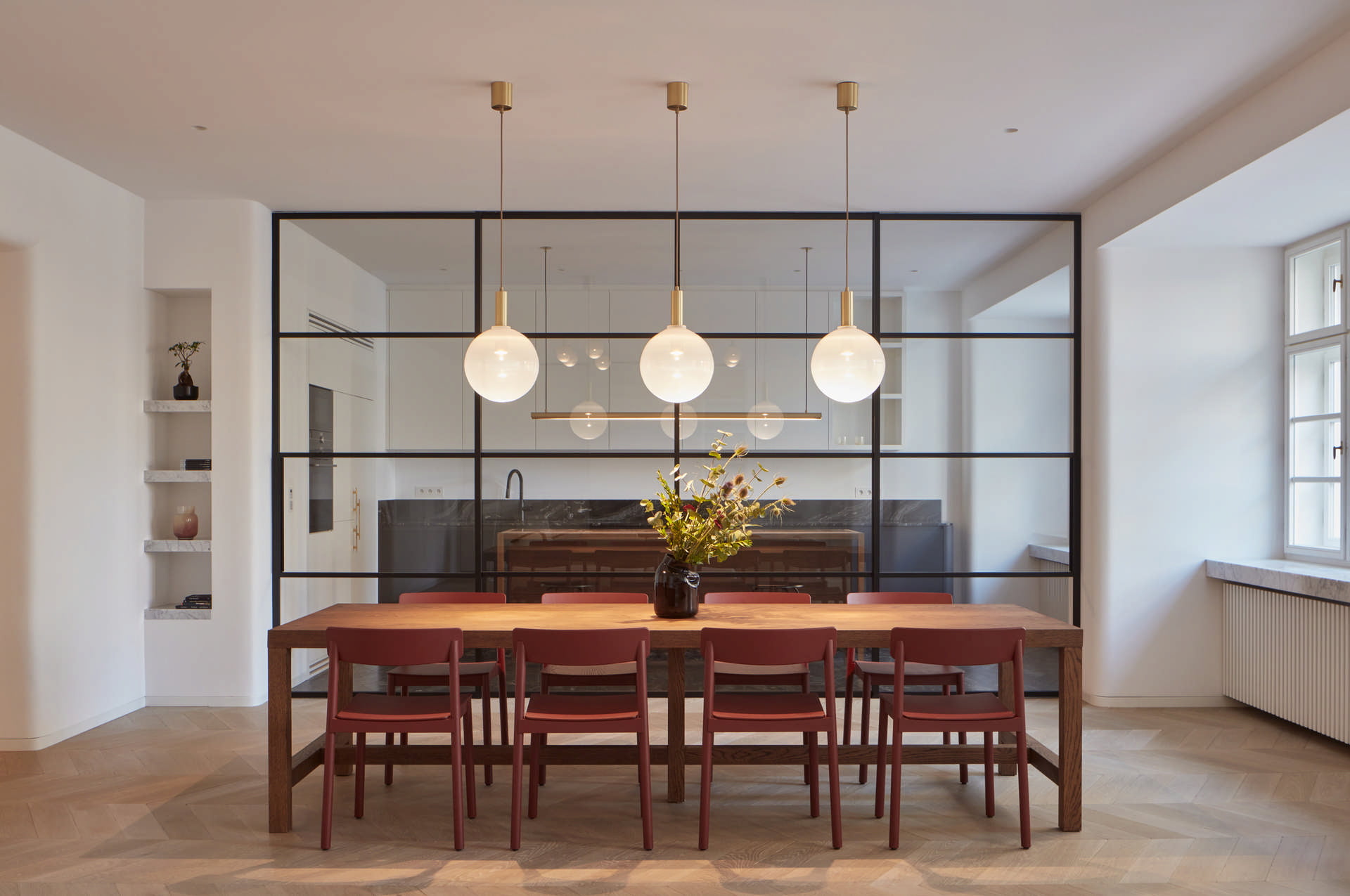 An important design element is the door leaf. The Digero partition allows you to choose not only classic opening doors, but also the option of sliding doors or Axon pivot doors. If it is necessary to place the partition in smaller spaces, sliding and pivot doors are absolutely ideal.
What is the added value of DIGERO partitions?
The glass partition itself prevents the passage of odors in the same way as a normal wall. The noise transmission through the partition is roughly the same as when using ordinary solid wooden doors - the partitions are therefore ideal for installation separating, for example, kitchen spaces from the rest of the household.